Industries we serve
Industries we are experienced in providing services to include clean room manufacturing, medical, industrial, churches & schools, dealerships, multi-tenant offices, distribution facilities, banks, high security facilities, senior living facilities, construction cleans and special project cleaning such as walls and ceilings.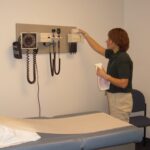 Medical
We pride ourselves on being experts in the commercial cleaning business, especially when it comes to cleaning medical facilities. When it comes to medical facility cleaning it is imperative to have the knowledge and equipment to rid rooms, beds, halls, and waiting rooms of any bio-hazards, viruses, and other unseen bacteria that lingers in a medical facility. Blu Cleaning customers include medical offices, urgent care facilities, large medical buildings, blood and apheresis collection facilities.  In fact about 50% of Blu Cleaning's customers are some sort of medical facility where disinfecting properly and following proper procedures and documentation is key to both customer and patient expectations.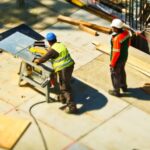 Construction
Construction cleaning is something we have a great deal of experience in with most major construction companies in West Michigan.  Whether that cleaning is one time over several days or multiple projects, we work with the construction company to meet their customer's needs and the general contractor's deadlines.  Our construction clean experience ranges from medical manufacturing, medical, general offices, childcare, manufacturing and small schools.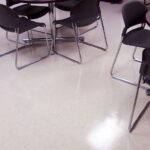 Corporate
Office cleaning requires attention to detailed dusting including those computer tower tops under the desk and the backs of those nice office chairs.  Professional offices require the respect of confidentiality which is why every one of our employees signs a confidentiality agreement.  Some of our office customers require access card access on every floor and ID badges which is not a problem for us.  Office cleaning also requires moving and cleaning behind wastebaskets and computer monitors, the tops of plaques and pictures, door frames and paneled doors.  Board rooms, kitchens, bathrooms, artwork and fine furniture are part of office cleaning and our employees are taught to take care of each customer's needs to exceed expectations
Manufacturing
Our manufacturing facilities cleaning include cleaning locked executive offices, board rooms, cafeterias and restrooms in their plants.  The areas can require different equipment from flat mops and hepa vacuums to scrubbers.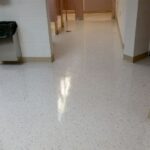 General
Whether we clean the tracks of the elevator doors and stainless steel doors, clean stairway glass walls or clean exterior windows 3 floors up, we are equipped to take care of you.  Need carpet cleaning or ceramic tile floors stripped and sealed? We can do it.  Do you need someone who knows how to take care of rubber floors or the no wax sustainable floors? We can do it.  Whether you need advice on facility challenges or dispensers mounted, we are there to help you solve your general facility needs.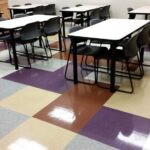 Educational
Blu Cleaning is proud to offer commercial cleaning for educational facilities. We have provided commercial cleaning primarily for school systems cleaning classrooms, halls, bathrooms, cafeterias, floor care and carpet cleaning.  Blu Cleaning understands the impact sick kids and the transmission of viruses and colds can have in an educational environment and can help to minimize that impact.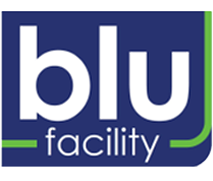 INSPIRING PEOPLE AT WORK
SERVICE 24/7 / 365
SALES: M-F 8AM-5PM